What is facial recognition in Zoho People? and How is it useful?
Facial Recognition feature in Zoho People is used to capture user image to validate user identity while checking-in or out. Facial Recognition works through the Zoho People mobile app.
The benefits of using facial recognition:
Confirming employee presence in office premises , remote work location, or a project site.
Identity theft detection, in other words detecting someone pretending to be some one they are not. This in turn prevents data theft, tampering and other illicit activities.
The image captured will be automatically face-matched with the already stored Zoho People profile photo using AI before a check-in/check-out action is performed, This reduces the need of manual supervision.
The image captured will also be stored and can be accessed for manual verification if required.
Note: You will have to use "HR management app – Zoho People" version 7.6.1 (Android) or version 10.1 (iOS) or higher to be able to access this feature. You can update your app directly from the Google Playstore or Apple App store…
Enabling Facial Recognition:
To enable facial recognition go to Attendance > Settings > General Settings. Now scroll down to Permissions, Enable the required options highlighted in the screenshot below and click Submit.
If you only wish to Capture and save photo, with no face-matching, then only enable the first option Capture and save photo when employee checks-in or checks-out using mobile app.
If you would like to verify the image by face-matching with the profile image stored in Zoho People then, enable the second option Capture and verify photo when employee checks-in or checks-out using mobile app.
If you would like to both save and also verify, then enable both options as shown below.

​
Employees are now required to capture and verify photo when they Check-in/Check-out or take a break.
If facial recognition is only required for a remote location users or a specific shift group, this can be achieved by enabling facial recognition within a particular group in the User/Shift Specific Settings.
To do this, go to Attendance > Settings > User/Shift Specific Settings > + Add Settings. Configure settings as required and enabled the facial recognition related features as shown below.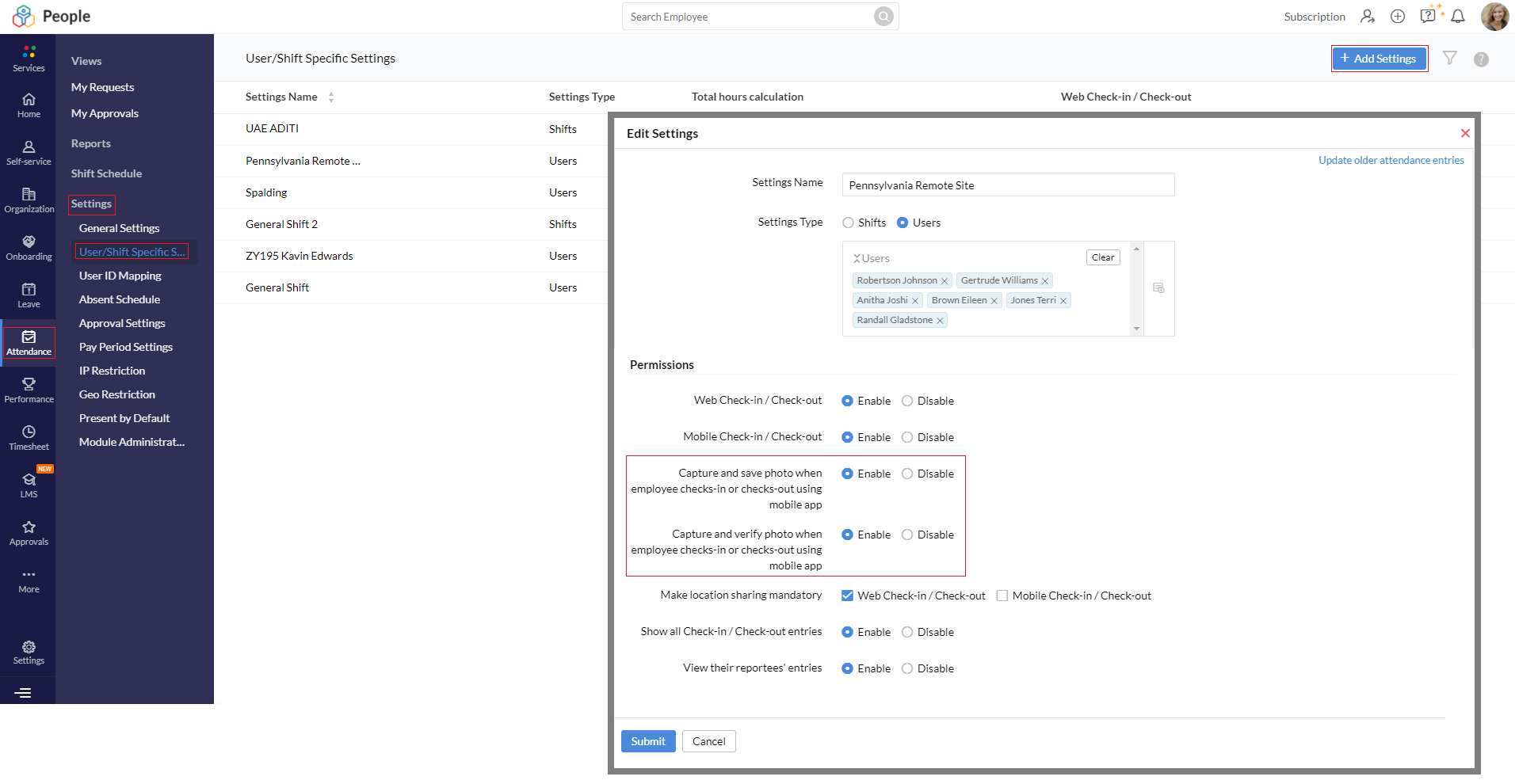 Check-in/Check-out with Facial Recognition
To check-in simply open the Zoho People mobile app and click Check-in.
Now you will be prompted to capture a photo (first time users may require to authorize camera permission),
The captured photo will then be face-matched and check-in action will be performed. (Face matching is performed comparing captured image and the existing profile image in Zoho People)
The same steps are repeated for check-out and when taking a break using the mobile app.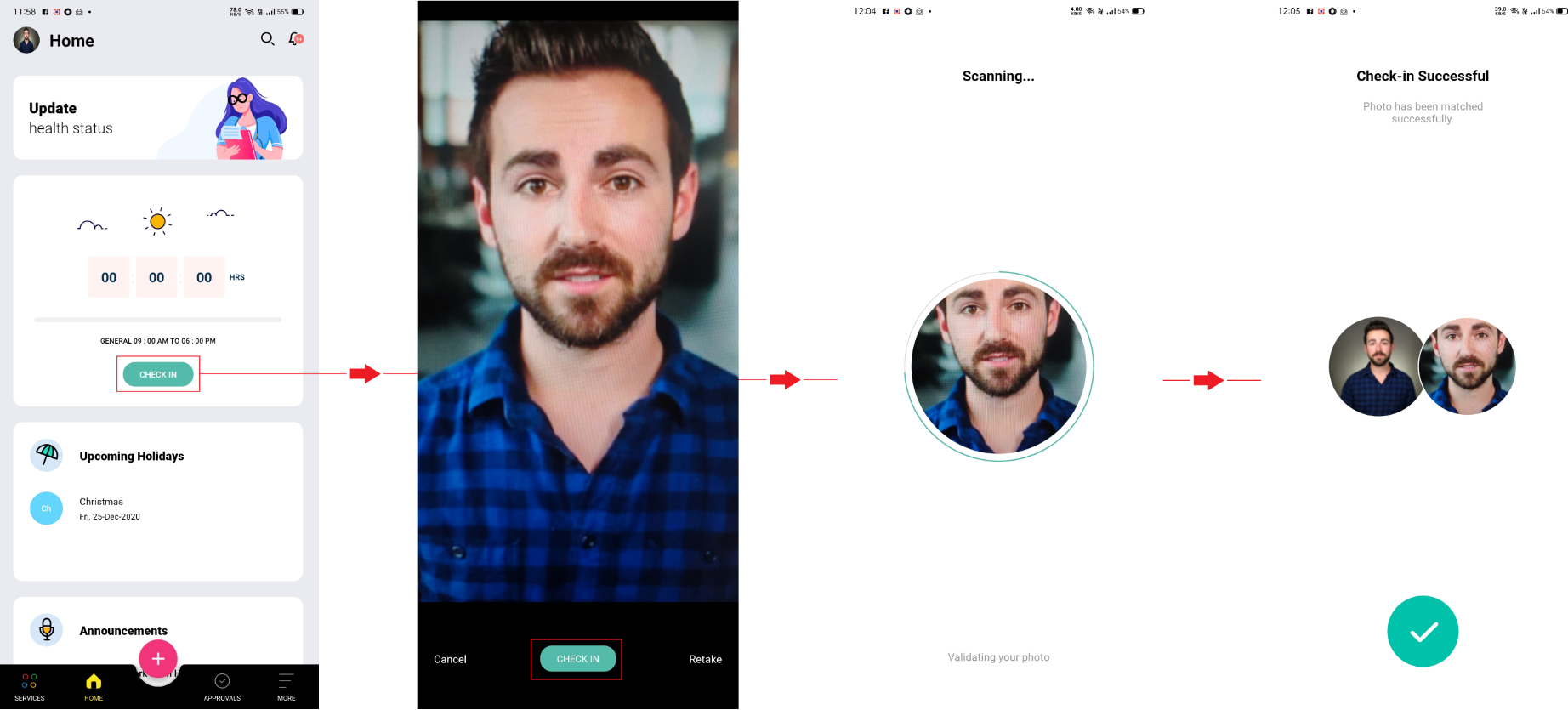 Now, if another employees tries to check-in as Randall Gladstone, the face-matching AI will detect that its not the same person and there-by prevent check-in just as shown below.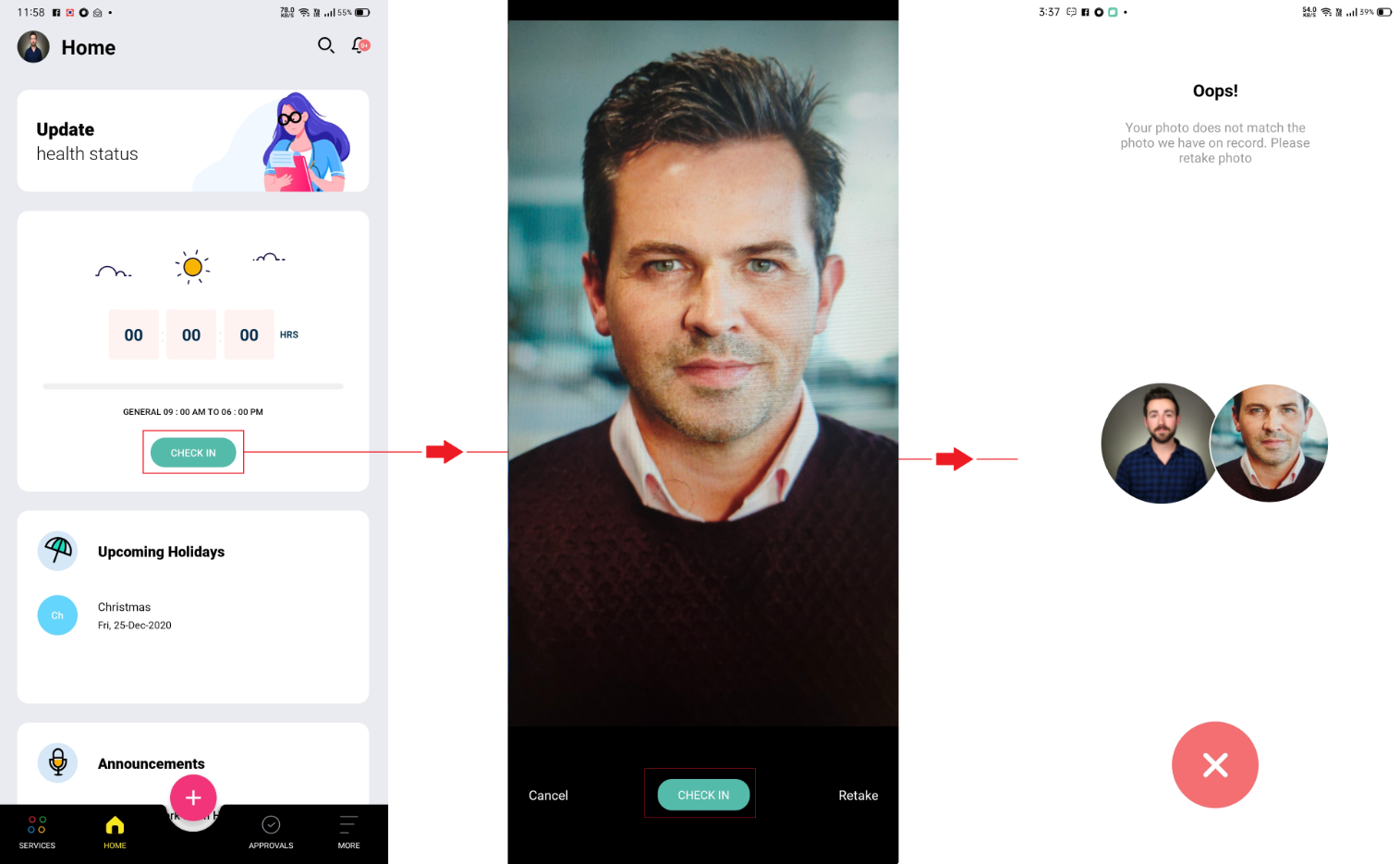 Accessing Saved Image for Manual Verification
For Reporting Managers, Administrators or Users who would like to view the captured image to manually verify authenticity. Navigate to Attendance > List View. Search for or select the employee whose image who you would like to view. Now select the corresponding attendance record and click on the profile icon as shown in the screenshot below. This can be used to confirm employee presence in an official environment.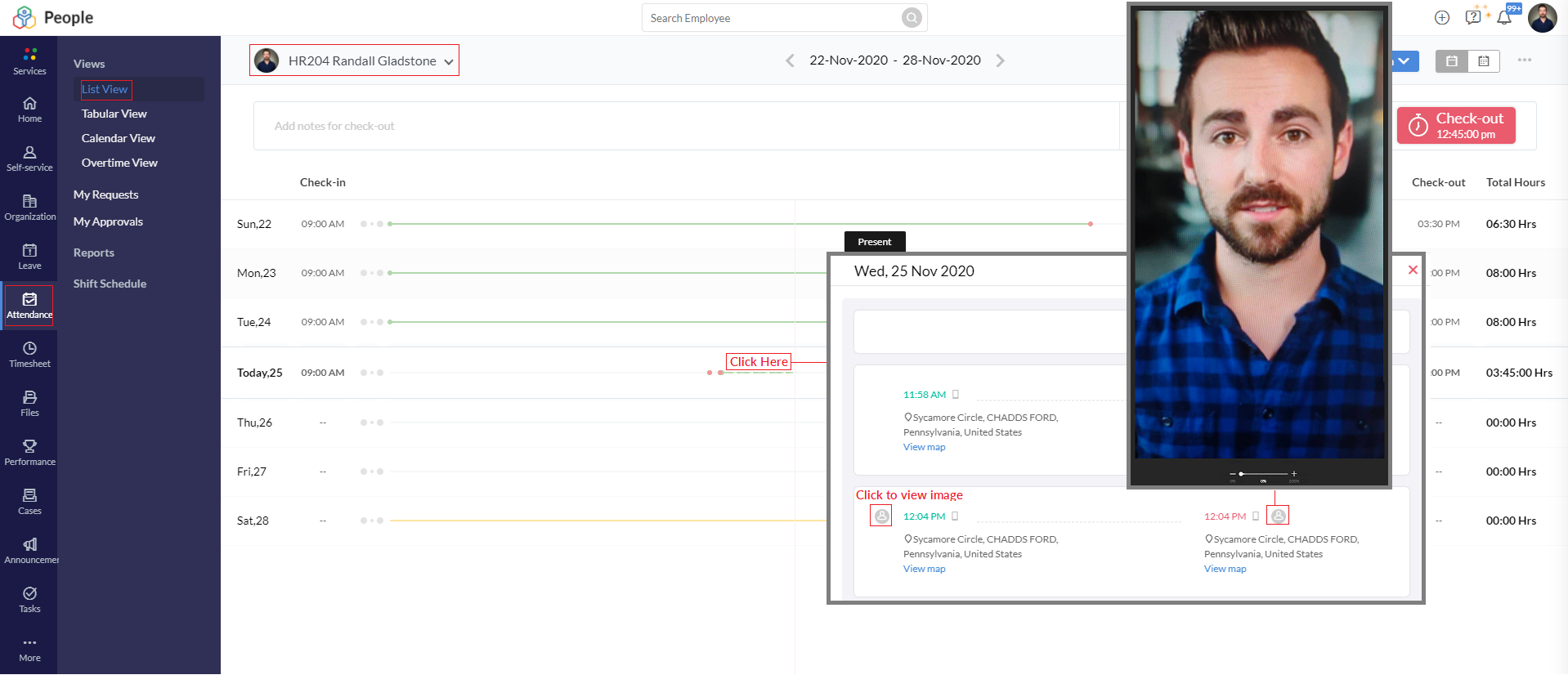 Source: Zoho